Ranulph Bye
---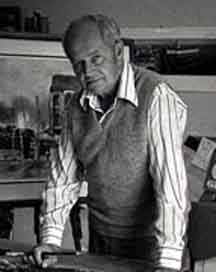 Painter Ranulph Bye, NA; AWS (1916 – 2003) is considered one of the foremost water colorists in the country. Since 1953, he produced over three thousand watercolors. Bye was known for his masterful rendering of rural American landscapes, seascapes, and buildings. He has painted many sites throughout the country for his books on Victorian architecture and old railway depots, but found his greatest inspiration in the landscapes of Bucks County. His works are characterized by superior draughtsman-ship and the ability to capture the essence of the scene painted. Bye preferred watercolors to other media, because he felt that there was greater freedom from many of the technical demands of oil painting. After training at the Philadelphia College of Art (now the University of the Arts) and the Art Students League of New York, Bye exhibited his watercolor and oil paintings both locally and nationally.
Bye, who had strong ties to the New Hope artists' community, was very interested in preserving the essence of Bucks County history in his work. His family has been in the area since 1699, when they received a land-grant from William Penn. Bye's own father, painter Dr. Arthur E. Bye, was also a part of the local art community, serving as curator of paintings at the Philadelphia Museum of Art. Ranulph Bye published several books of his work, including Victorian Sketchbook and The Vanishing Depot, both of which deal with representations of historical structures, and several instructional books on painting in watercolor.
Ranulph Bye became a National Academician in 1994. National Academicians are professional artists and architects who are elected to membership at the Academy by their peers annually. Bye was also a member of the American Watercolor Society, AWS.
Also see Ranulph's work on:
---
Presented by Pine Ridge Productions, Inc.

Pine Ridge Productions, Inc.
1515 West Chester Pike – Suite A6
West Chester, PA 19382

Questions? … Contact Us 🙂
---